รายละเอียดเพิ่มเติม
Twisted Bee 100% Organic Hemp Wick with Natural Beeswax Coating
Twisted Bee Organic Hemp Wick is the perfect, natural alternative to butane lighters or a great option for your next arts and crafts project. Experience for yourself why Twisted Bee is rated the #1 Hemp Wick available.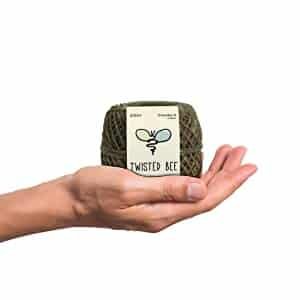 No Flavor Distractions
Good hemp wick should never interfere with flavor. Avoid the nasty notes of butane or mystery chemicals from other wicks made in China that can ruin the healthy, natural aromas and flavors of your next smoke. Our Hemp Wick is only made with raw and organic materials and contains absolutely zero synthetic materials, allowing you to simply enjoy the good stuff.
– The only natural alternative to butane lighters to ignite your cigar or pipe.
– Twisted Bee Hemp Wick holds a consistent slow, smooth burn at a lower temperature that will preserve the natural flavor!
The Most Consistent Burn You'll Find
No hotspots or dead spots. Light what you want, when you want. Our Twisted Bee Hemp Wick has a consistent all-around burn so that you can light up and relax without any fear of the unexpected or uneven burning.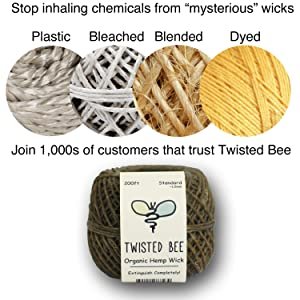 Healthier for You
Stop inhaling chemicals released from other "mysterious" (and cheaper) hemp wick brands made in China. Twisted Bee Hemp Wick is grown in Europe and is the purest way to light up. Get ready for a cleaner way to enjoy your next smoke.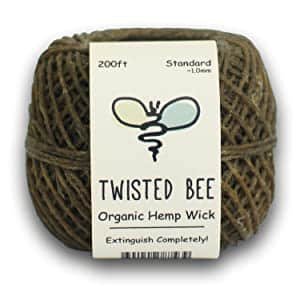 Perfect for Candle Making & Art Projects
Utilize a premium, safe and durable hemp wick for candle making, book binding, gardening, retail packaging and tons of other projects. The possibilities are endless! One of the many ways our customers use our wick is for making beeswax/soy candles.
– The standard 1mm hemp wick is ideal for making tea tights, votives, tapers and other similar candles.
– The thicker 2mm hemp wick is better for larger candles such as containers, pillars, and more.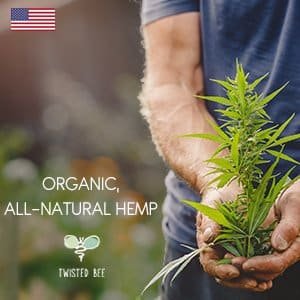 Organic, All-Natural Hemp
Twisted Bee Hemp Wick is premium unbleached, un-dyed and 100% organic hemp rope coated in nature's all-natural beeswax. Our wick is crafted from organically grown European hemp (we still can't grow commercial hemp in the USA) and made in-house for purity and environmental sustainability.
– No dies or harsh chemicals. Unlike other brands who purchase their hemp from factories in China where the hemp goes through a harsh acid wash chemical bath, our hemp is all natural.
– Natural shades. As the hemp crop goes through different seasons, it changes colors. That's why every spool of Twisted Bee Organic Hemp wick is a different shade of light to dark brown.